Dear readers,
Last night I suddenly got sad. There was no special reason, I just felt sadness… a deep one. It came out nowhere. It was hugging me like a passionate lover, without letting go. Some friends of mine were looking for me, supporting me as always, and telling me the same eternal advice…stay positive, think positive, write positive, paint positive, be positive…positive, positive…and everything will be just fine.
What is so wrong with sadness? Why are people avoiding that emotion, why are they so afraid of it? Staying away from sad people…as if they are sick, maybe even insane! Isn't it true that some of the most beautiful creations in art came from out of the deepest sadness…Dante wrote regarding unrequited love, that Beethoven, my favorite composer, created his most wonderful music, because of feelings of sadness and passion that he couldnt release by being with the person he was in love with. Unrequited love… again.
What about Van Gogh…tortured by sadness, obssesed with a love he never reached, fighting with pain…creating masterpieces…the most beautiful paintings ever.
Sadness has proved to us that it should exist, that it must exist no matter how hard it is and how painful it is to live with it. It has its place in the world, its throne.
I will reveal to you a secret…Musetouch came out of sadness too.
My heart and thankfulness goes to Ljiljana Bursac, Jelena Grujic, my Nini Baseema, Kiyo Murakami, Murielle Mirabelle Velay, Ian Furniss and two dear friends, the great artists Mark Sadan and Gines Serran.
Maia Sylba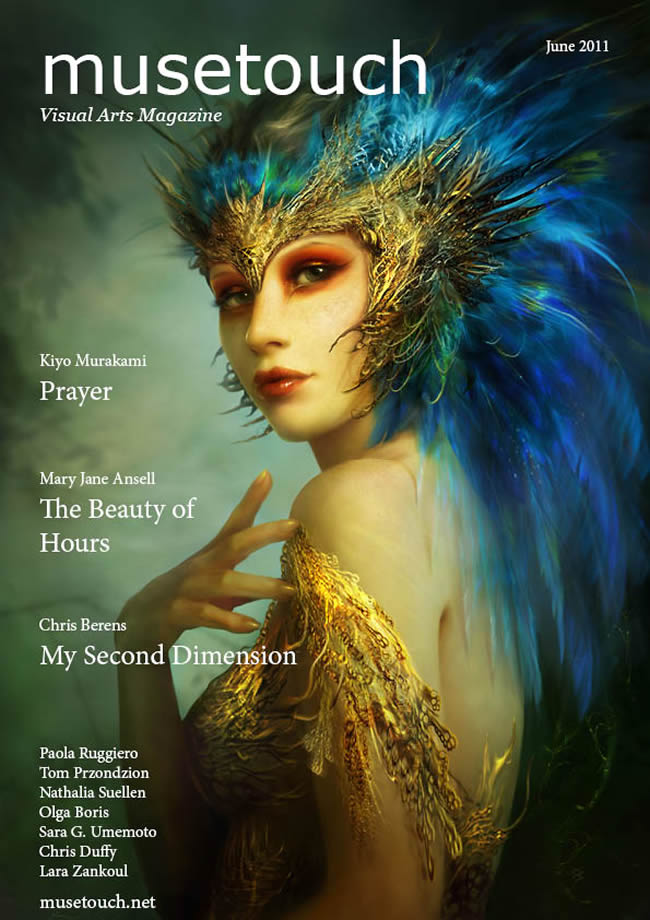 Cover by Benita Winckler